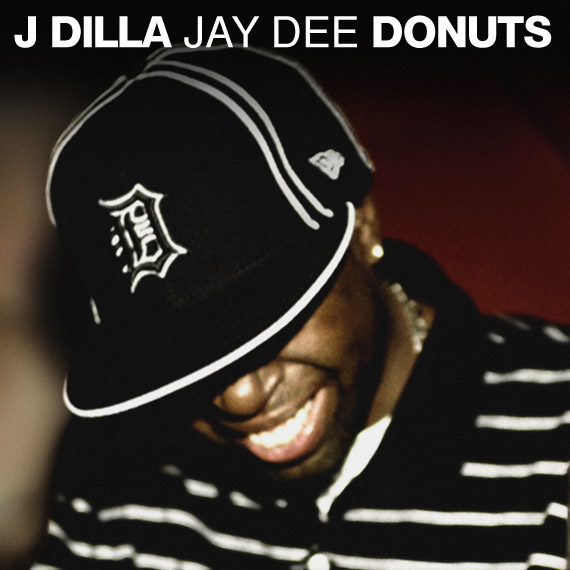 (Maybe you already knew this shit, but I definitely did not.)
Everybody who's ever heard of Jay Dee is familiar with the now-iconic image of him smiling on the cover of (perhaps) his greatest release,
Donuts
. But where did that picture actually come from? Surprisingly, it wasn't a picture at all, but a still shot from a music video.
Check out the full story below (from director Andrew Gura who filmed the MED video for "Push" that this is from) AND catch the clip in question from the video shoot below that...
In 2005, stones throw records asked me to make a video for the MED song 'push'.

we shot in two locations, one in highland park and one on hollywood boulevard. as was expected, madlib didn't show up to set, but we were happily surprised when the semi-reclusive j. dilla did.

it meant a lot to pb wolf and stones throw, it meant a lot to MED, and it definitely meant a lot to me to have my set blessed by jay dee. (i'd met him on a few occasions before but it was usually brief and he was a man of few words around people he didn't know too well).

i even kept the camera rolling after the music stopped on a few takes because it was obvious that he and MED were having fun together.

the end result was accepted to BET programming but never saw airplay because, despite the huge producers attached to the project (j. dilla and just blaze), MED didn't have hot 97 spins. lesson learned.

one completely unexpected outcome of the project was as follows: months later when stones throw art director jeff jank was designing the cover for dilla's 2006 'donuts,' he realized that he had no unseen photos of dilla and that dilla's failing health made taking a new photo impossible. so he asked me if there were any stills from the shoot that might work for a record cover.

i picked about three out and sent them to him, and the rest, as they say, is history:
J Dilla - Donuts

ps: i almost forgot. probably the coolest thing that came out of this whole situation was something that egon told me. apparently dilla's mom said that she thought this photo perfectly captured her son's spirit.
Dilla Donuts
from
andrew gura
on
Vimeo
.